The first state to allow women the right to vote, and the home of the first National Park, Wyoming values freedom, law and order. Paralegals in this state help to foster that legal process by forming the heart of law firms across the state. These detail-oriented men and women do everything from office management to filing legal briefings and even interviewing witnesses. Here's all you need to know about entering the exciting career of a Wyoming paralegal.
Wyoming Paralegal Certification
Basic Paralegal Certification Requirements
Certification: Wyoming does not require paralegals to be certified. However, they must work under the supervision of a licensed attorney.
Age: A paralegal should be at least 18 years of age.
Licensure: There are no license requirements for Wyoming paralegals.
Degree: While there are no state requirements, most employers prefer that you complete a degree or certification program approved by the ABA. This program should encompass 60 hours of paralegal-focused education.  A bachelor's degree is preferred.
Experience: No experience is necessary, but if seeking national certification, it can sometimes substitute for partial education requirements.
Citizenship: You should be a legal resident of the United States.
Featured Schools
Additional Requirements
Examination: If you are seeking national certification, the exams offered by NALA or the NFPA (PACE Exam) will be necessary.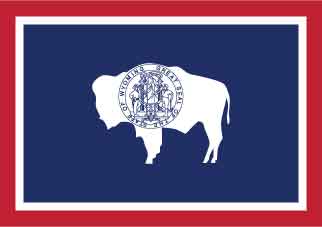 Becoming a Paralegal in Wyoming
Paralegal Certification Process in Wyoming
Wyoming has no legal certification process for paralegals. Those wishing to work in this field in the state are encouraged to get the right education, build skills through work experience, and potentially seek national certification, all of which will help you find the best jobs.
Wyoming Paralegal Degrees
Aside from paralegal studies, the degrees most helpful to someone seeking paralegal employment in Wyoming include criminal justice, law enforcement, law and government, or administrative studies.
Major Cities in Wyoming
The state capital of Wyoming, Cheyenne, is the largest as well, with 62,448 residents.
Casper is the next largest city in the state and is home to 59,628 people.
Laramie is next largest, with 31,814 people calling it home.
What Does a Paralegal Do in Wyoming?
Paralegals serve as the important organizer, researcher and face of law firms. Not only do they help attorneys prepare for trials and keep records during proceedings, but they draft and file legal documentation, briefs, orders and motions. They maintain the law office. They call clients, other attorneys, witnesses and vendors to schedule meetings and interviews, and sometimes conduct these interviews. They research case law and make sure that the details of a case are in order. They are the backbone of the law firm in which they work.
Wyoming Legal Assistant and Related Careers
Administrative Assistants, legal assistants, executive assistants, file clerks, patent clerks, office managers, title examiners, legal secretaries and all manner of administrative and legal support workers share similar detail-oriented skills with paralegals.
Paralegal Employment Numbers in Wyoming
In Wyoming, the Bureau of Labor Statistics estimates that there are currently 560 paralegals employed, with job openings expected to hold steady over the coming years.
Bureau of Labor Statistics Paralegal Salary Ranges in Wyoming
On average, paralegals in Wyoming make around $46,660 every year, though top earners with experience and national certification can earn somewhat higher salaries.
Wyoming Paralegal Organizations
Online Paralegal Programs and Schools in Wyoming
Get Your Degree!
Find schools and get information on the program that's right for you.
(It's fast and free!)
Choose your area of study and receive free information about programs you are interested in. Pursuing an education in paralegal studies is vital to your success as a paralegal or legal assistant. Paralegals have a wide range of responsibilities that attorneys, law offices, and even government agencies rely on every day. A formal education is a must for paralegals looking to impress law offices in both the public and private sectors of the law.