New York, or the "Empire State" according to some, has long been a center of industry, culture, advancement, and productivity in the U.S. The state's $1.4 trillion GDP would be enough to qualify it as the 13th most productive economy in the world when comparing it to other countries, including the U.S.
With so much business activity, New Yorkers have come to rely on many different types of legal services to help them stay productive and keep everyone on the right side of the law. Paralegals are indispensable in this system, which is why New York state has the fourth-highest number of paralegals in the country.
Becoming a paralegal in New York is straightforward as long as you can satisfy the following steps:
New York Paralegal Certification
Basic Paralegal Certification Requirements
Certification: Certification is not currently required, but the Empire State Alliance of Paralegal Associations recommends that paralegals seek certification to display their qualifications, knowledge and experience.
Age: New York law has no minimum age for paralegals, but many employers require applicants to be 18+ or 21+.
Licensure: No license or registration is currently offered for paralegals in NY.
Degree: No degree is currently required to operate as a paralegal in the state of NY, but the ESAPA is attempting to put through policies requiring training in a postsecondary paralegal studies program accredited by the American Bar Association (ABA).
Experience: No minimum experience is required by the state of NY, but having experience may be a requirement for certain employers.
Citizenship: All paralegals should be U.S. citizens or authorized to live and work in the U.S.
Find schools and get information on the program that's
right for you.
(It's fast and free!)
Featured Schools
Additional Requirements
Continuing Education: The ESAPA's current proposals call for a minimum of 12 hours of continuing education to be completed every two years, including at least two hours worth of coursework in ethics.
Background: Employers are likely to require paralegals to submit to a background check.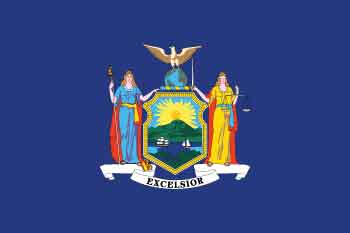 Becoming a Paralegal in New York
Paralegal Certification Process in New York
New Yorkers can seek certification from programs offered by the National Federation of Paralegal Associations (NFPA) or the National Association of Legal Assistants (NALA). ESAPA's proposals also recommend a New York State Certified Paralegal program to indicate exceptional individuals who can meet the minimum education requirements in their proposal and/or a minimum experience level working as a full paralegal.
Major Cities in New York
New York City is the biggest city in New York state and in the entire United States with 8,550,405 people living in one of the five boroughs.
Buffalo is the second-biggest city in New York state with 261,310 residents.
Rochester has the third-most residents at 210,565.
Yonkers is the fourth most-populous city in New York with 195,976 residents.
Syracuse has the fifth-most number of residents with a population of 145,170.
What Does a Paralegal Do in New York?
Paralegals work under the supervision of a licensed attorney who assumes responsibility and legal liability for their actions. A paralegal can perform any work authorized by their supervising attorney as long as it does not specifically require licensure or status as a legal counsel to perform. Examples include filing paperwork, performing legal research, aiding in discovery, completing needed forms, and meeting with clients for interviews.
New York Legal Assistant and Related Careers
Occupations similar to paralegal in the state of New York include government clerk, legal assistant, compliance officer, administrative assistant and claims advisors.
Employment Numbers in New York
With 21,820 paralegals operating in the state, New York has the third-most paralegals in the country, according to the U.S. Department of Labor's Bureau of Labor Statistics (BLS). When including Jersey City as part of the NYC/White Plains/Jersey City metro area, New York has the single-biggest paralegal job market in the country with 15,920 positions.
Bureau of Labor Statistics Salary Ranges in New York
2015 BLS data shows that New York is the fourth-highest-paying job market for paralegals by state, with an average annual salary of $57,920. The NYC/White Plains/Jersey City metro area also has a higher-than-average annual salary for paralegals of $61,150 per year.
New York Paralegal Organizations
Online Paralegal Programs and Schools in New York
Get Your Degree!
Find schools and get information on the program that's right for you.
(It's fast and free!)
Choose your area of study and receive free information about programs you are interested in. Pursuing an education in paralegal studies is vital to your success as a paralegal or legal assistant. Paralegals have a wide range of responsibilities that attorneys, law offices, and even government agencies rely on every day. A formal education is a must for paralegals looking to impress law offices in both the public and private sectors of the law.