As with most other states, Louisiana does maintain specific requirements in the paralegal profession. All certification and education is optional. However, specialized experience and participation in certified programs is highly recommended.
Recently, the Louisiana Workforce Commission has projected job growth of 18 percent for paralegals within the state. This growth is estimated to last until 2022, making the paralegal occupation rather appealing to Louisiana residents.
If you're interested in pursuing a career in this field, continue reading to find out how you can set yourself apart as a paralegal applicant.
Find schools and get information on the program that's
right for you.
(It's fast and free!)
Louisiana Paralegal Certification
Basic Paralegal Certification Requirements
Certification: Certification is wholly optional. However the Louisiana State Paralegal Association (LSPA) does have a certification system in place.
Age: 18 years of age or older.
Licensure: Paralegals in Louisiana do not need licensure.
Degree: Specialized higher education is not required, but is strongly encouraged in order to remain competitive in the applicant pool.
Experience: Experience may be obtained through completion of an internship or other work opportunities in the state. It is vital to have some experience to increase your chances of being hired.
Citizenship: Must be a U.S. citizen or legal alien.
Additional Requirements
Ethics: Paralegals in Louisiana must abide by the Louisiana Legal Ethics: Standards and Commentary guide, which outlines best practices.
Background Check: Most businesses, organizations and law firms will require a professional and criminal background check.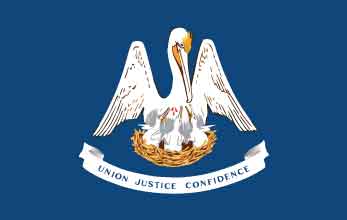 Becoming a Paralegal in Louisiana
Paralegal Certification Process in Louisiana
In order to qualify for Louisiana's optional certification exam, you must be a Certified Legal Assistant (CLA) or Certified Paralegal (CP) through the National Association of Legal Assistants (NALA). To obtain this status, you must first pass the NALA examination.
Or, if you meet one of the following criteria, you are also eligible to take the state's examination:
Successful completion of an ABA-approved paralegal studies program.
Successful completion of an associate's degree or post-bachelor's certification program in paralegal studies.
Graduate of a paralegal studies bachelor's degree program which includes, at minimum, 60 semester hours. Fifteen of those hours must be in legal courses.
Graduate of any bachelor's degree program with at least a year of work experience as a paralegal.
Holder of a high school diploma with seven years in the paralegal workforce and 20 hours of continuing education in the legal field within 2 years of taking the exam.
The LSPA will announce exam dates on a yearly basis. The Louisiana Certified Paralegal exam covers general law, civil procedure and Louisiana legal ethics, along with four other topics (out of eight) of your choice.
Louisiana Paralegal Degrees
You may choose an ABA-approved or non-approved degree program such as paralegal studies legal studies, business law or criminal justice.
Major Cities in Louisiana
New Orleans is the most populous city in the state with 378,715 citizens.
The second largest city in Louisiana is Baton Rouge with 229,426 people.
Shreveport has the third highest population at 200,327 residents.
What Does a Paralegal Do in Louisiana?
Paralegals in Louisiana can assist attorneys in a variety of fields of law. From small non-profit organizations to Fortune 500 corporations, paralegals can work in many different settings.
Paralegals often help attorneys prepare for trial by conducting research, collecting evidence and taking formal statements.
Louisiana paralegals are strictly prohibited from giving legal advice to clients.
Louisiana Legal Assistant and Related Careers
Legal assistants share many of the same roles as paralegals. Additionally, claim adjusters and title examiners are also closely related careers.
Employment Numbers in Louisiana
According to a 2015 report from the Bureau of Labor Statistics, 3,530 paralegals are estimated to be employed in the state.
Bureau of Labor Statistics Salary Ranges in Louisiana
On average, paralegals in Louisiana make an estimated $43,450 per year.
Louisiana Paralegal Organizations
Online Paralegal Programs and Schools in Louisiana
Get Your Degree!
Find schools and get information on the program that's right for you.
(It's fast and free!)
Choose your area of study and receive free information about programs you are interested in. Pursuing an education in paralegal studies is vital to your success as a paralegal or legal assistant. Paralegals have a wide range of responsibilities that attorneys, law offices, and even government agencies rely on every day. A formal education is a must for paralegals looking to impress law offices in both the public and private sectors of the law.