Some people who are interested in a legal career prefer to work in a supportive capacity. While the most common of these positions are paralegals or legal assistants, another exciting supportive legal career is working as a law clerk. Where paralegals work to assist lawyers, law clerks assist judges in making important legal decisions.
Despite what the name of this profession may suggest, working as a law clerk is a very advanced and highly competitive position. If you're considering a career as a law clerk, it's important that you learn the requirements for entering this career and the duties you will be required to perform.
Law Clerk Responsibilities
Your job duties as a legal clerk will depend on what area of the court system that you work in. Generally, there are two different types of law clerks: trial court law clerks and appellate court law clerks. Both of these clerk types have their specific responsibilities that you should know about if you're planning on entering this profession.
Trial court law clerks, as you might expect, are involved in litigation. If you work as a trial law clerk, you may be responsible for managing evidence, interacting with litigants and advising the judge during a trial. A trial court law clerk may also be tasked with reviewing briefs, doing legal research and sometimes writing trial briefs.
An appellate law clerk will assist a judge during criminal or civil appeals. Because appeals are extremely complicated, appellate law clerks must possess advanced legal knowledge. Appellate law clerks can write a wide range of legal documents and perform any research the judge requests to aid in their career.
Find schools and get information on the program that's
right for you.
(It's fast and free!)
Featured Schools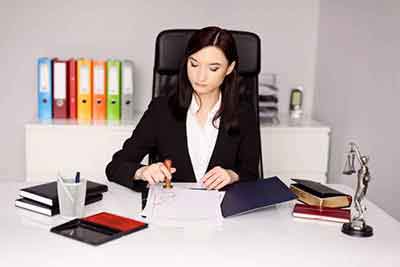 Because the duties of a law clerk are so complex and vital, law clerks must have earned an advanced education degree and have the skills necessary for the profession. The majority of law clerks will be law school graduates. After completing law school, you will generally take part in a two-year clerkship working with a judge, which may lead to a position as a career clerk. Typically, only law school graduates who were at the head of their class will become law clerks.
One of the most important skills that you can have as a law clerk is advanced writing ability. The primary responsibility of a law clerk is writing legal documents, and without superior writing skills your success will be limited. You should also be comfortable with multiple legal discipline, standard procedures of the court and as well as a strong communication skills.
Salary
The Bureau of Labor Statistics gathers employment information for many careers, including law clerks. According to the Bureau's report that was published in May of 2015, the national mean annual salary for a judicial law clerk was $59,910. However, your salary can vary depending on how much experience you possess, if you're a member of the bar and the state in which you are employed.
Become a Law Clerk
If you're interested in a challenging career where you're involved in important legal matters, then the right choice for you is to become a law clerk. Law clerks are a vital part of the court process, and can be the perfect profession for a skilled, motivated law school graduate.