If you're considering becoming a paralegal in the state of Iowa, now is a good time. According to the Bureau of Labor Statistics, job growth for paralegal positions in Iowa is expected to increase by a projected 13.3 percent until 2022. This is good news for individuals looking to start careers as paralegals in the state.
Although paralegal certification is not required in Iowa, there are a number of career paths that aspiring paralegals can follow. With the right combination of experience and education, you can soon find yourself working in this promising, growing field.
Iowa Paralegal Certification
Basic Paralegal Certification Requirements
Certification: Although no certification is necessary to work as a paralegal in the state, it is highly recommended to complete national and state-level paralegal programs.
Age: You must be at least 18 years or older.
Licensure: Not required in the state of Iowa.
Degree: There are no mandatory education requirements for paralegals in the state. However, many law firms prefer candidates with a bachelor's or associate's degree in paralegal studies.
Experience: The right experience can be a huge advantage for paralegal job applicants. This may be achieved through educational programs and internships or through volunteering at a pro bono organization.
Citizenship: Must be a U.S. citizen or legal alien.
Additional Requirements
Ethics: Legal professionals must abide by The Paralegal Ethics Handbook, which outlines the position's obligations and how to remain ethical in certain situations.
Background Check: Most law firms will require a criminal and professional background check as part of the hiring process.
Find schools and get information on the program that's
right for you.
(It's fast and free!)
Featured Schools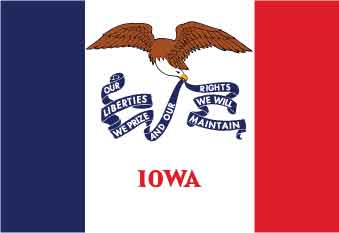 Becoming a Paralegal in Iowa
Paralegal Certification Process in Iowa
As stated, paralegal certification is not required in Iowa. However, it is strongly recommended that you pursue professional certification from a national organization such as the National Federation of Paralegal Associations (NFPA) or the National Association of Legal Assistants (NALA). Additionally, many law firms in Iowa prefer candidates who have completed formal training in an Iowa paralegal program.
In order to qualify as a Certified Paralegal (CP), you must pass a certification exam by the NALA. To be awarded the status of an Advanced Certified Paralegal (ACP), you must pass at least one online course.
The NFPA offers exams for both entry-level and experienced paralegals. Passage of the Paralegal CORE Competency Exam (PCCE) will grant individuals the title of CORE Registered Paralegals (CRPs). Registered Paralegal (RP) certification is granted after the passage of the Paralegal Advanced Competency Exam (PACE).
Iowa Paralegal Degrees
The American Bar Association has approved several paralegal programs in Iowa. You may choose to pursue a degree in liberal studies with a paralegal concentration, or a program in paralegal studies is a valid degree option.
Major Cities in Iowa
Des Moines is the largest city in Iowa with a population of 207,510 people.
The second most populated city in the state is Cedar Rapids with 128,429 residents.
Third on the list is Davenport, which is home to 102,157 people.
What Does a Paralegal Do in Iowa?
Paralegals often provide legal support for corporations, insurance companies, government agencies and, most of all, law firms.
The main role of a paralegal is to complete vital legal tasks such as writing reports, performing research or investigating facts in preparation for trials.
Although paralegals may work on the same tasks as attorneys, they are prohibited from giving legal advice or providing representation to clients.
Iowa Legal Assistant and Related Careers
The most closely related career to a paralegal is a legal assistant. Legal secretaries and assistants or claim adjusters may also share similar roles to paralegals.
Employment Numbers in Iowa
As of 2015, 2,310 paralegals or legal assistants worked in the state of Iowa, according to the Bureau of Labor Statistics.
Bureau of Labor Statistics Salary Ranges in Iowa
The annual mean wage for paralegals in the state of Iowa is $45,600.
Iowa Paralegal Organizations
Online Paralegal Programs and Schools in Iowa
Get Your Degree!
Find schools and get information on the program that's right for you.
(It's fast and free!)
Choose your area of study and receive free information about programs you are interested in. Pursuing an education in paralegal studies is vital to your success as a paralegal or legal assistant. Paralegals have a wide range of responsibilities that attorneys, law offices, and even government agencies rely on every day. A formal education is a must for paralegals looking to impress law offices in both the public and private sectors of the law.