The citizens of Indiana depend on reliable legal services, which is why many people in this state consider a career as a paralegal. With 197,500 crimes committed in Indiana annually, paralegals will be able to find ample employment opportunities in this state.
Similar to many other states, Indiana has no regulation related to paralegals. However, to achieve a high level of success in this career, there are several steps that you need to follow.
Find schools and get information on the program that's
right for you.
(It's fast and free!)
Indiana Paralegal Certification
Basic Paralegal Certification Requirements
Certification: There are currently no certification requirements for working as a paralegal in Indiana. However, it is recommended that Indiana paralegals become certified with a national organization.
Age: You must be at least 18 years old before becoming a paralegal in Indiana.
Licensure: Indiana does not provide licenses for paralegals, nor does it require them.
Degree: Education is key to successfully becoming a paralegal. You should complete an ABA-approved paralegal studies program from an accredited institution.
Experience: Paralegal work experience can be acquired during your degree in an internship or by volunteering at an Indiana law firm.
Citizenship: Only US citizens and legal aliens can become paralegals in Indiana.
Additional Requirements
Background Check: While Indiana does not require a formal background check to become employed as a paralegal, your employer may request a check.
Ethics: Paralegals are bound by the ethics of their profession.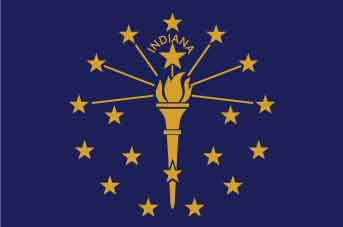 Becoming a Paralegal in Indiana
Paralegal Certification Process in Indiana
Currently, Indiana does not require certification for paralegal work. This means that any paralegal looking to become certified must do so at the national level. While there are many national organizations that certify paralegals, the most commonly used is the National Association of Legal Assistants (NALA).
You can apply for two separate certifications through NALA. The first, a Certified Paralegal (CP), is achieved by passing an exam that covers common legal subjects. The second, an Advanced Paralegal Certification (APC), is curriculum based. Choosing either of these certifications will make you a more attractive candidate in a highly competitive profession.
Indiana Paralegal Degrees
For anyone seeking a career as a paralegal, the most important step is enrolling in an educational program. A degree in paralegal studies, whether an associate's or bachelor's, will give you the training you need to become a successful paralegal. These degrees will include courses like legal research and legal writing, and may also focus on specific areas of the law like corporate law or family law.
Major Cities in Indiana
Indianapolis is by far the largest city in Indiana. It has a population of 852,866.
Fort Wayne is the second largest Indiana city with residents totaling 256,496.
Evansville is Indiana's third biggest city. It's population totals 120,310 people.
What Does a Paralegal Do in Indiana?
A paralegal is very similar to an attorney. While they don't give legal advice or speak in court, paralegals perform many of the tasks that allow a law firm to function. Tasks that a paralegal may routinely perform can include performing legal research for an attorney, constructing legal contracts, gather evidence like witness statements and submitting briefs to the court.
Indiana Legal Assistant and Related Careers
A legal assistant has the most similar career duties to a paralegal. They will also work in support of a licensed attorney and are responsible for many paralegal duties. Some claims adjusters also have similar responsibilities to a paralegal. While a legal secretary can occasionally be similar to a paralegal, they are not as closely related as the other two professions.
Employment Numbers in Indiana
According to the most recent data provided by the Bureau of Labor Statistics, 4,010 paralegals were working in Indiana in 2015.
Bureau of Labor Statistics Salary Ranges in Indiana
Paralegals working in Indianapolis can make an average yearly salary of $49,520. In Fort Wayne, the average salary is $41,600. Gary paralegals can earn $45,310 a year.
Indiana Paralegal Organizations
Online Paralegal Programs and Schools in Indiana
Get Your Degree!
Find schools and get information on the program that's right for you.
(It's fast and free!)
Choose your area of study and receive free information about programs you are interested in. Pursuing an education in paralegal studies is vital to your success as a paralegal or legal assistant. Paralegals have a wide range of responsibilities that attorneys, law offices, and even government agencies rely on every day. A formal education is a must for paralegals looking to impress law offices in both the public and private sectors of the law.