Georgia, the Peach State, offers many exciting career opportunities, particularly in the more metropolitan areas. However, if you're looking for a legal career that is rewarding and easy to enter, you should consider becoming a Georgia paralegal. Unlike legal secretaries that mostly deal in record keeping, paralegals work alongside licensed attorneys and perform many of the same duties.
Georgia has not passed any laws to regulate how one would become a paralegal, which can make it difficult to know how to enter the profession. Luckily, by getting the right education and applying for national certification, you can easily become a Georgia paralegal.
Georgia Paralegal Certification
Basic Paralegal Certification Requirements
Certification: Certification is not required to become a paralegal in Georgia.
Age: You must be over 18 before entering the paralegal field.
Licensure: Georgie does not license paralegals.
Degree: Although many paralegals choose a certificate program, a two or four-year degree program approved by the American Bar Association is recommended.
Experience: Gaining work experience after degree completion is key. Many choose to enroll in internship programs or work pro bono.
Citizenship: US citizens and legal aliens who reside in Georgia can become paralegals.
Additional Requirements
Background: Law firms that hire paralegals may request that candidates submit to a criminal background check.
Ethics: When working as a paralegal, you should be sure to follow professional ethics.
Find schools and get information on the program that's
right for you.
(It's fast and free!)
Featured Schools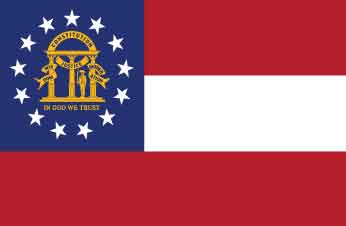 Becoming a Paralegal in Georgia
Paralegal Certification Process in Georgia
Georgia is one of the many states that does not require certification or formal education to work as a paralegal. Paralegals are legally allowed to perform many legal tasks while under the supervision of a licensed attorney.
To improve your career prospects, however, it is a good idea to seek certification through a national organization like the National Association of Legal Assistants (NALA). You can achieve NALA certification through exam or curriculum, and becoming certified will make it easier for you to be hired by some of the state's top firms.
Georgia Paralegal Degrees
A paralegal studies degree or certificate is the most common educational path for those entering the paralegal profession. Some aspiring paralegals may also pursue a criminal justice degree. While studying to be a paralegal you can take courses in specific legal areas, such as business law and family law, as well as courses on legal research and legal writing.
Major Cities in Georgia
The largest city in Georgia is Atlanta, which is home to 447,841 residents.
197,872 people live in Augusta. It is the second largest Georgia city.
Savannah is the third largest Georgia city, and has population of 142,722.
What Does a Paralegal Do in Georgia?
A paralegal is responsible for many of the same tasks that we associate with an attorney. While paralegals cannot offer legal advice or argue cases in court, they are able to write legal contracts, investigate evidence and interview people related to a case, inform clients about the progress of their case and can file briefs and exhibits with the court.
Georgia Legal Assistant and Related Careers
A legal assistant performs most of the same duties as a paralegal, and they are often considered to be the exact same job. Legal secretaries may have some limited similarities to paralegals. Claims adjusters are also responsible for many of the same tasks as working as a paralegal.
Paralegal Employment Numbers in Georgia
The Bureau of Labor Statistics most recent numbers indicate that there were 7,750 paralegals working in Georgia in 2015.
Bureau of Labor Statistics Paralegal Salary Ranges in Georgia
Atlanta paralegals can make an annual mean wage of $55,880. In Macon, the average salary is $50,630. Athens paralegals can make $43,220.
Georgia Paralegal Organizations
Online Paralegal Programs and Schools in Georgia
Get Your Degree!
Find schools and get information on the program that's right for you.
(It's fast and free!)
Choose your area of study and receive free information about programs you are interested in. Pursuing an education in paralegal studies is vital to your success as a paralegal or legal assistant. Paralegals have a wide range of responsibilities that attorneys, law offices, and even government agencies rely on every day. A formal education is a must for paralegals looking to impress law offices in both the public and private sectors of the law.