Corporate law is a rigorous and challenging discipline. Most large corporations have entire legal teams dedicated to making sure contracts are successful and that lawsuits do not damage the corporation's financial health. To make sure nothing gets overlooked and that these legal needs are successfully met, many corporations will hire corporate paralegals to assist their legal teams.
A corporate paralegal is responsible for supporting the lawyers in a corporation's legal department. They will assist lawyers in whatever way they need and will handle tasks that are vital to overcoming the legal obstacles that corporations face on a day to day basis.
Corporate Paralegal Job Duties
The responsibilities of a corporate paralegal are wide ranging and are just as important as the duties of a corporate attorney. A few of the everyday tasks of a corporate paralegal can include administration, legal research and interviewing clients for important information. However, these are not the only important legal jobs you will need to perform while working as a corporate paralegal.
A corporate paralegal will typically be tasked with writing legal documents for corporate use, including the documents necessary to form LLCs and merger agreements. Some corporate paralegals will assist in corporate transactions such as acquiring new businesses and establishing initial public offerings (IPO). Without paralegals, many corporations would not be able to function at the level they are accustomed to.
Featured Schools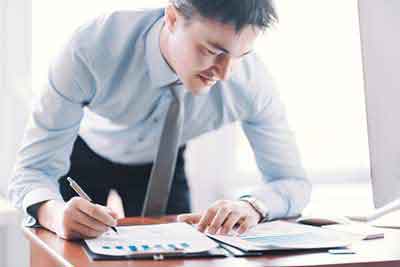 Skills and Education You'll Need
There are no specific educational requirements for working as a corporate paralegal that differ from a standard paralegal. At the very least, you will need a paralegal studies certificate, although it is a better idea to earn an American Bar Association (ABA) accredited associate's or bachelor's degree. You should also consider taking courses focused on trademark and patent law, white collar crime and business law.
Corporate paralegals must also possess the right skills for the profession. In addition to being able to quickly understand difficult business concepts, you must also have the capability to remain calm under high-stress work conditions. Corporate legal matters often involve large amounts of money and property, which can be intimidating for people without the right mentality.
Potential Salaries
Several factors can influence your potential salary as a corporate paralegal. First and foremost, the state in which you live and work can play a large part in how much you will earn for corporate paralegal work. Other issues to consider include your experience in the field and the size of corporation that you are employed by. To get some idea of your possible salary, you can examine the data provided by the Bureau of Labor Statistics (BLS).
The most recent report by the BLS was released in May of 2015, and it indicated that the average salary for a paralegal that year was $48,810. Paralegal positions are projected to expand by 8% over the years 2014-2024, which is expected to lead to an employment change of 21,200.
Become a Corporate Paralegal
Anyone that is interested in a legal career specifically focused on business should consider becoming a corporate paralegal. Although this profession can be challenging, it offers tremendous opportunity for a fulfilling and profitable career.